Firstly...

What a lousy week for Illinois politicians!

First Dick Durbin's daughter died of a congenital heart disease...

Then Barack Obama's grandmother died.

Gah. Dudes, I am so sorry...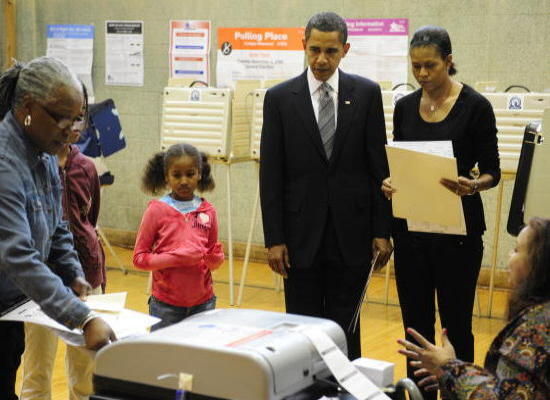 Secondly...

For those of you who watched Barack Obama vote this morning and were wondering why it took so freaking long? I have an answer for you.

We in Illinois vote for the retention of Circuit Court Judges. There are a billion of them. or so it seems. We have a goofy, oversized, clownish ballot (11"x17") (see that giant thing in Michelle Obama's hands?) So when I say a billion judges, understand that the entire back of the ballot is covered with judges names.. and the ability to chose yes or no. Exactly. It takes forever.

Also we have to fill in the middle part of an arrow to complete our ballot. That means that I am always paranoid that I have not properly connected my arrow.. so I spend a lot of time coloring. Why? paranoia.

Thirdly,

The Chicago Tribune was a bummer this morning. Along with the news that Madelyn Dunham had passed, I learned that some woman dropped dead at a Blackhawks game. They (whoever "THEY" are) identified Steve Fossett's remains... as I recall the bones were scattered because he was "et" by animals (hopefully post-mortem). ew...


And finally, Jennifer Hudson is a corpse kisser. I don't know why this has be reported. But I come from a family of corpse kissers. Well, ok, just one. My Gram. Aunt Rosie and Aunt Pat freak out whenever she does it... Their concern is formaldehyde poisoning. I think that they are over reacting. But whatever!

My friend Richard's mother used to photograph the corpse. He loathed that, but I thought as a tribute, he should have photographed her in her casket. It would seem right. And along those lines, I plan on kissing my dead grandmother if I happen to outlive her. Which is not a given as Gram is 101. So Jennifer? I get it. really I do.

Oh, and go and vote, eh? I did.